RAJA AMPAT
Kajak Ekspedition 2008
Fotos fra ekspedtionen 2008
Forside/front page Formål/purpose Deltagere/participants Udstyr/equipment Hvor/where Rejseplan/Route Tidl. ekspeditioner/earlier expeditions Links Video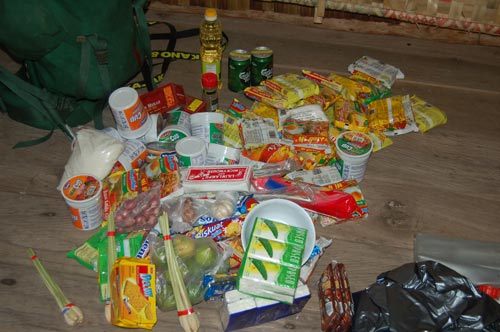 Vi skulle have lidt mad med på turen
We had to have some food for the trip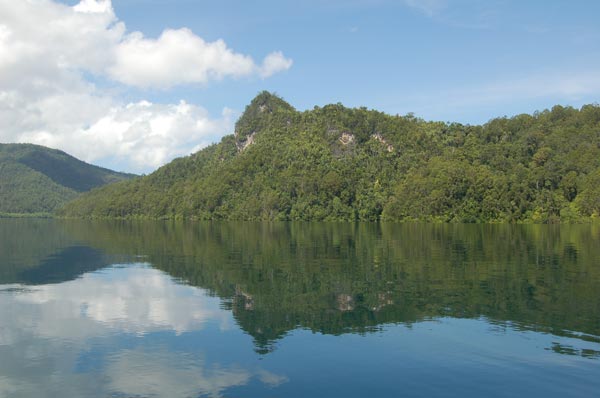 Waigeo har nogle meget dybe krokodillefyldte fjorde
Waigeo has some very deep fjords still with the rare crocodile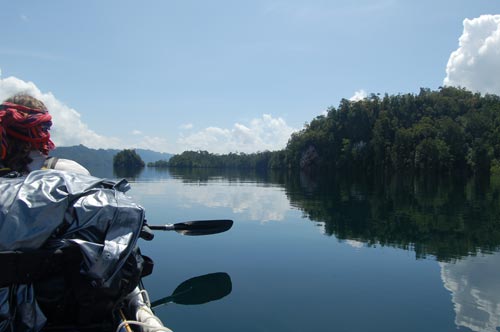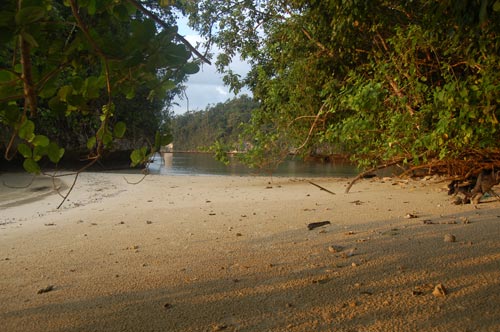 Ved lavvande var her en dejlig strand
At low tide there was a beach here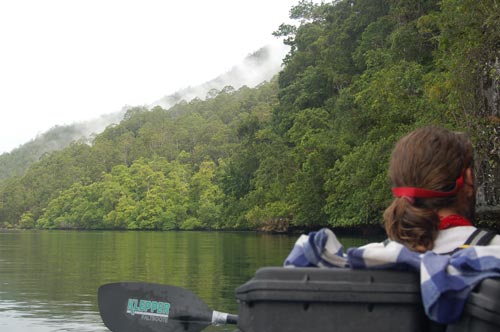 Vi leder efter en lejrplads
Looking for at camp site. Some days we had to paddle for hours in order to find sand.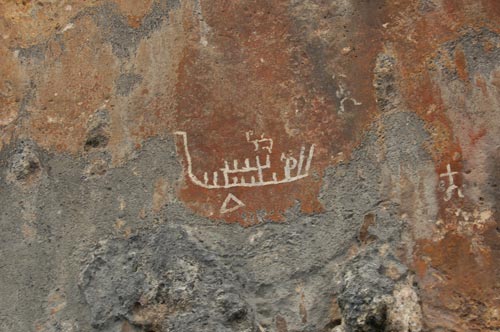 Oldgammel grafitti
Ancient grafitti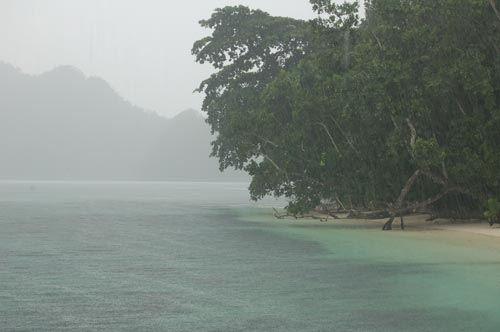 Det regnede (meget) ofte
It rained (very) often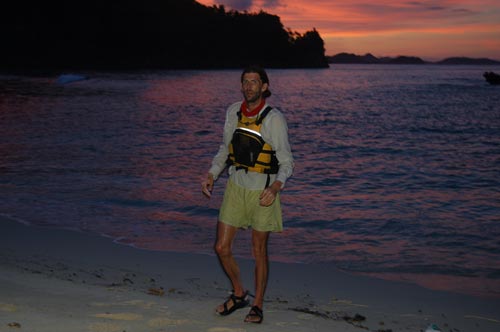 Få minutter after forliset grundet en kæmpe brænding.
A few minuttes after we got wrecked due to a nasty surf.
Morgenen efter forliset
The morning after.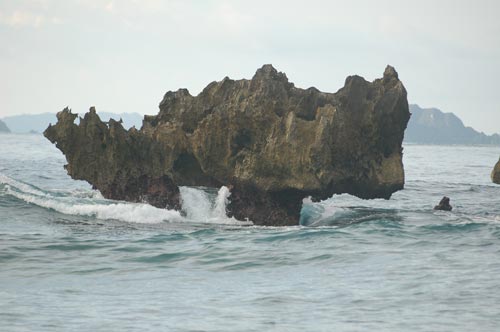 Djævleøens forbandede klippeskær
The bloody rocks off "Devil Island"
...og den forbandede brænding
...and the bloody surf
Vi fik reddet næsten alt vores vand
We saved almost all our water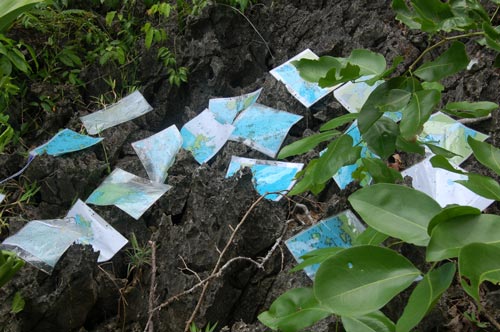 De fleste søkort flød i land dagen efter
Most of the maps drifted ashore the day after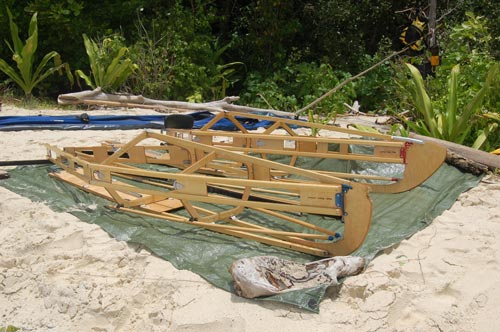 Vi reparerer kajakken
We rapaired the kayak
Klar til det store flugtforsøg
Ready to the big escape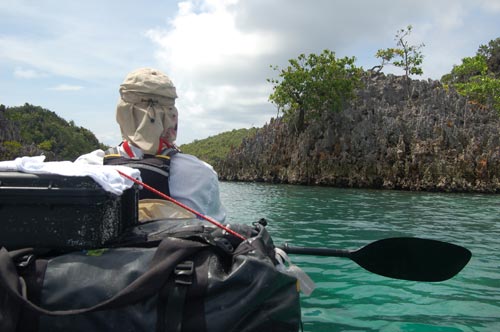 Famøens indsøer er fascinerende
Fam Island's fascinating lagoons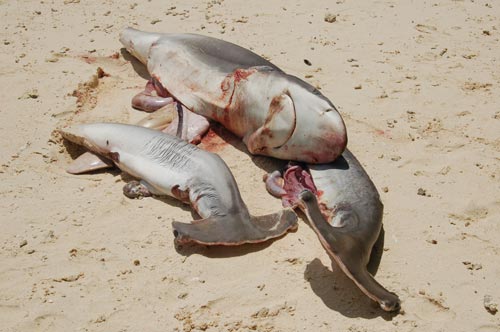 Overalt slagtes hajerne, finnerne skæres af til det umættelige kinesiske marked
Everywhere the sharks are slaghtered. The fins cut off to be sold to the chinese marked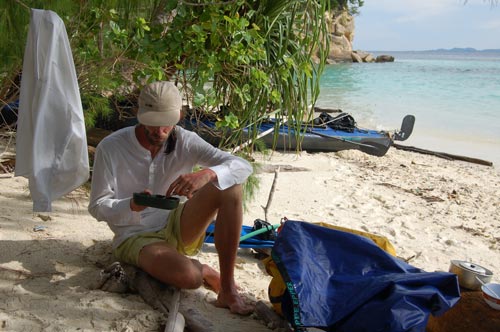 Noget velfortjent mad
Some well deserved food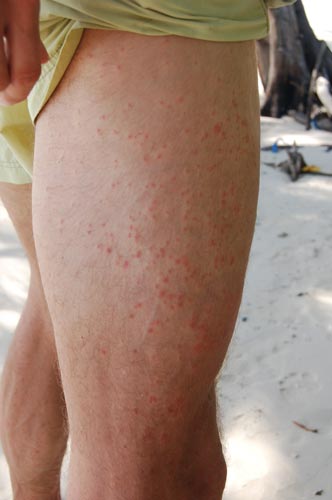 Vi donerede gerne blod til de mange myg
Mosquitos liked us a lot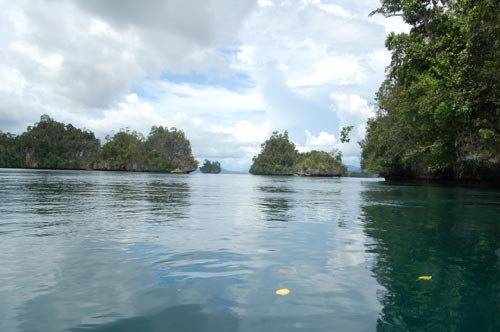 Fantastisk sceneri ved Gam
Fascinating scenery at Gam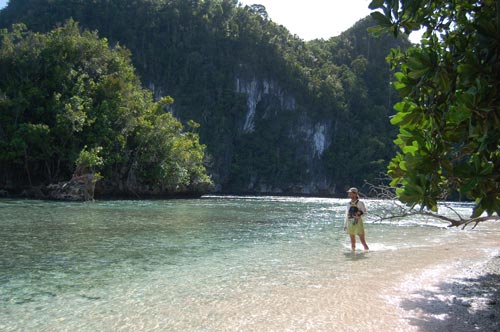 En stømfyldt passage mellem 2 øer
A lot of current between two islands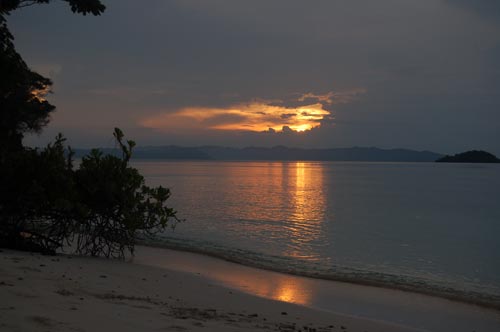 Sunset in paradise
Sunset in paradise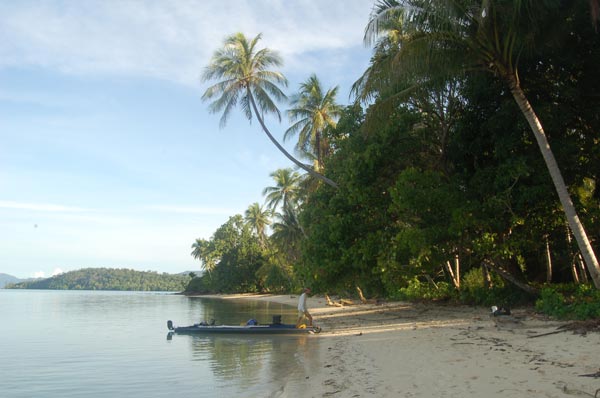 Vi når lige at slå lejr før solen går ned
Just in time to camp before sunset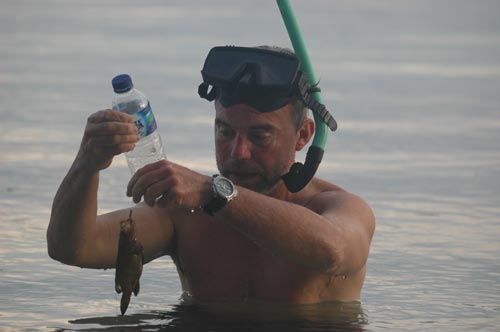 Så er maden sikret
Diner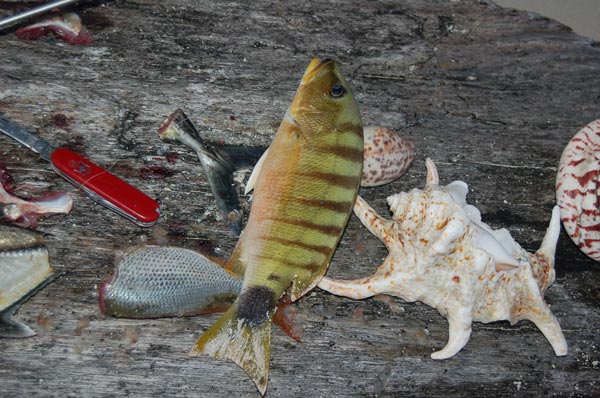 Endelig fangst af aftensmad
More diner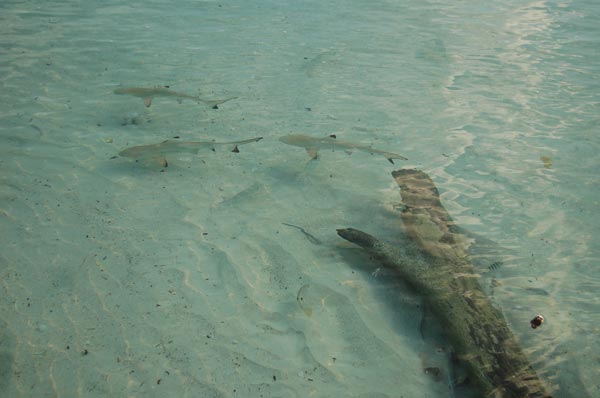 På dette billede er der faktisk både hajer og rokker
At this photo you can see both sharks and rays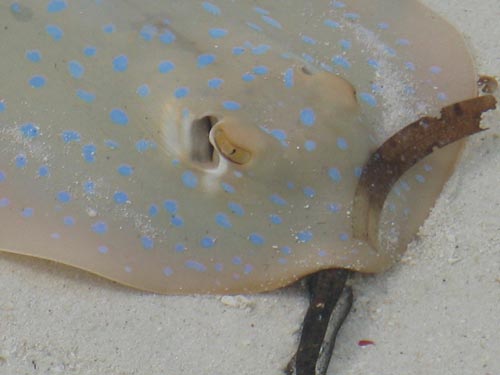 Blåplettet pigrokke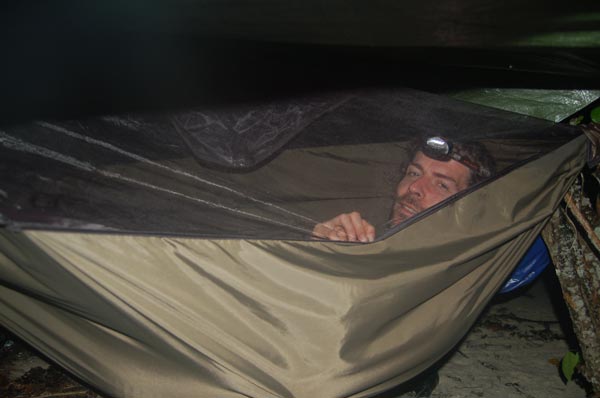 Køjen var djævelsk varm for Søren
The hammock was very hot for Søren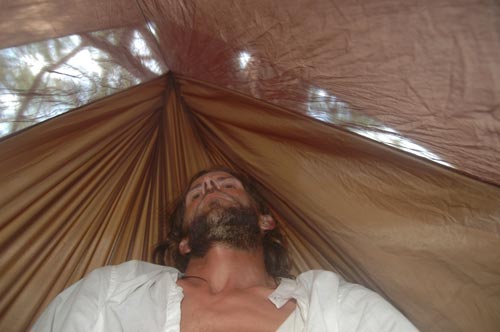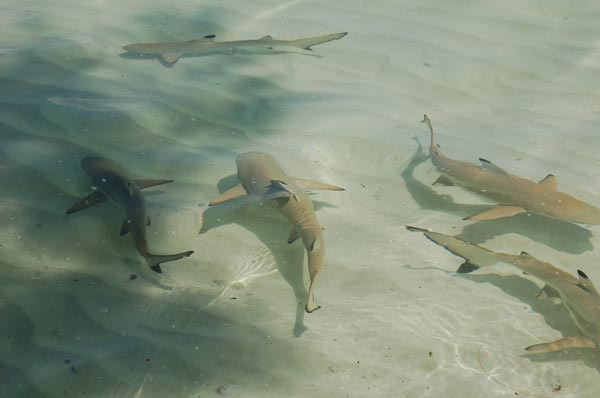 Mange små sorttippede revhajer på det lave vand
Quite a few small blacktips in the shallows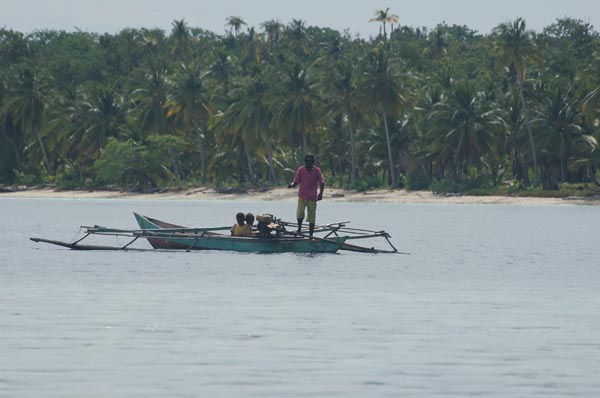 Familie på tur i deres udrigger
Family fishing in their outrigger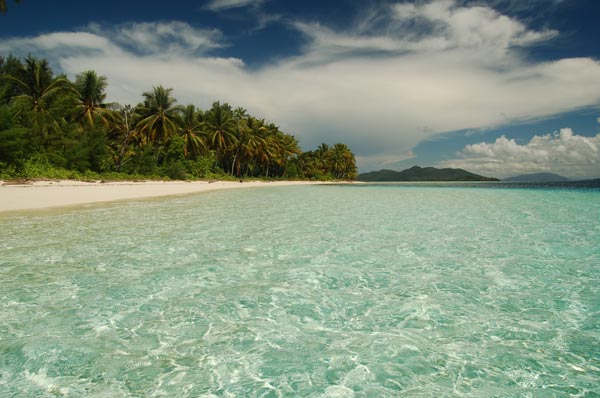 Klassiske strande i Raja Ampat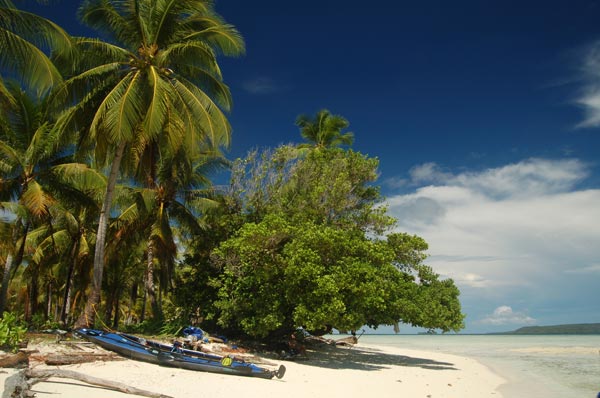 Vores mest permanente lejr- 4 nætter på samme sted
Our most permanet camp - 4 nights at the same spot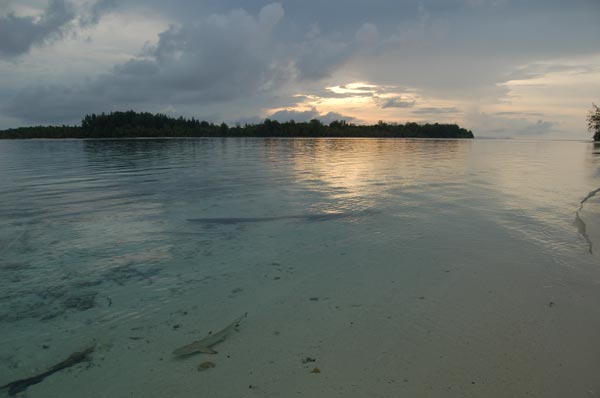 Morgenstund på Jef Mo
Morning at Jef Mo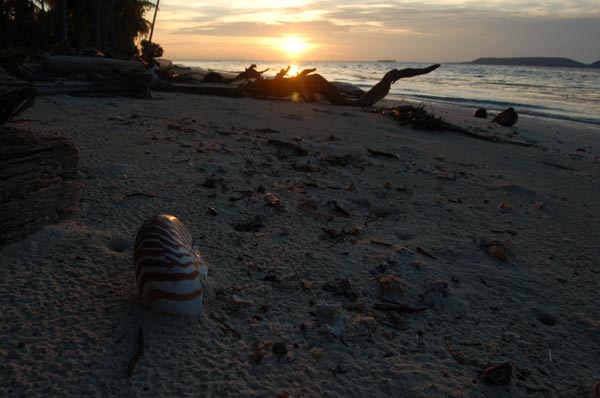 En nautil i aftensolen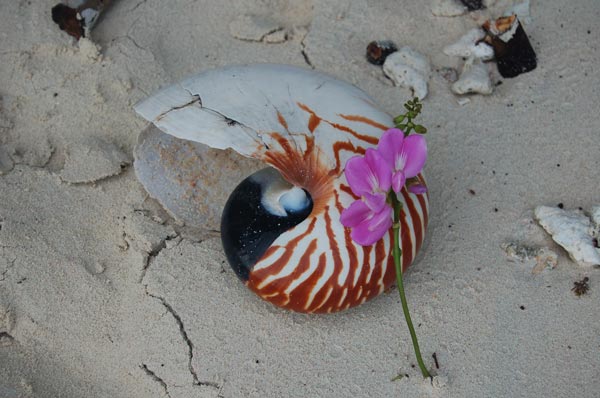 En nautil (Lars' fødselsdagsgave)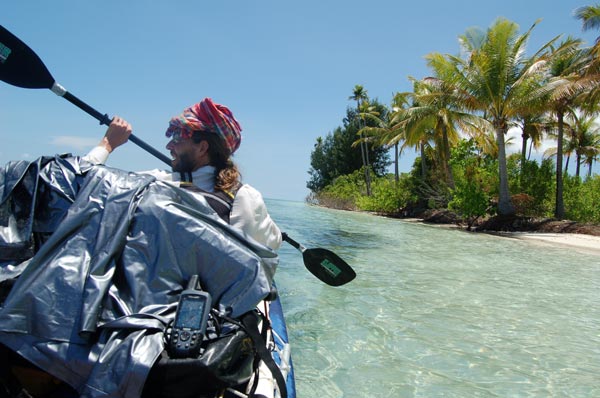 Strandene forsvinder næsten ved højvande
The beaches almost disappear at high tide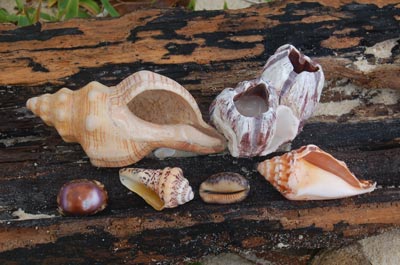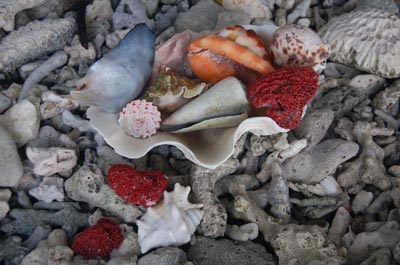 '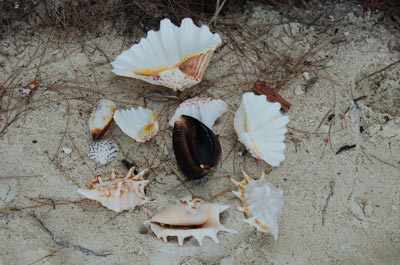 Vi fandt mange skønne muslinger og snegle (og lod dem ligge)
Lots of sea shells. We look and left them at the beach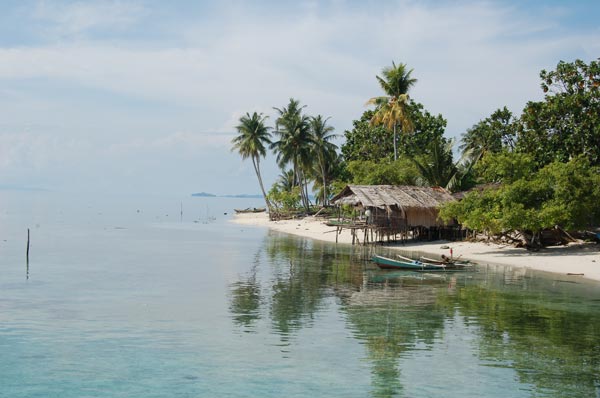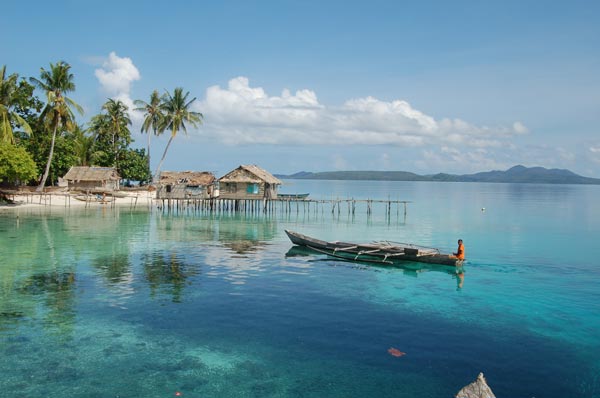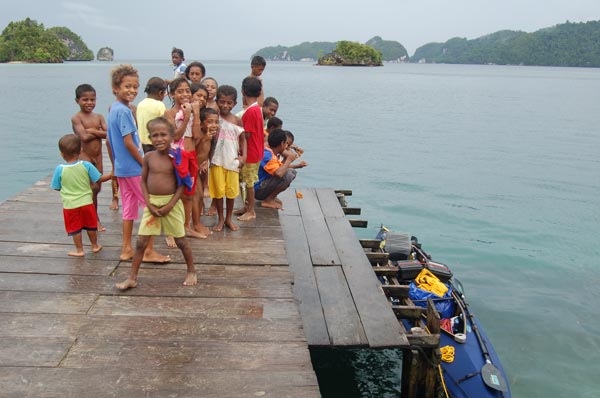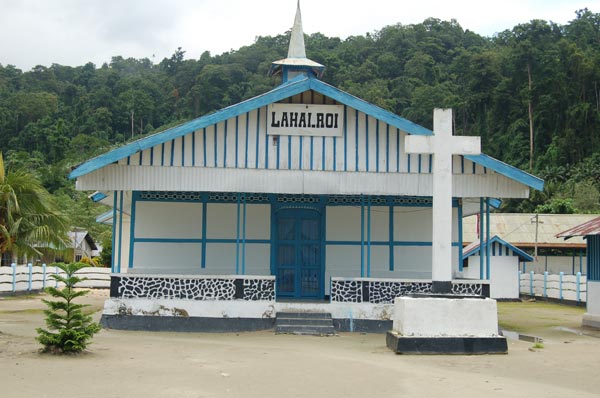 Næsten alle landsbyer er kristne
Almost all of the villages was christian protestants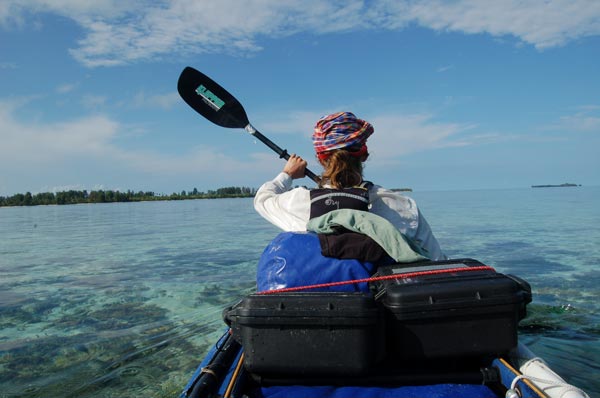 Vi skal passe på ikke at ramme korallerne
We have to be carefull not to hit the corals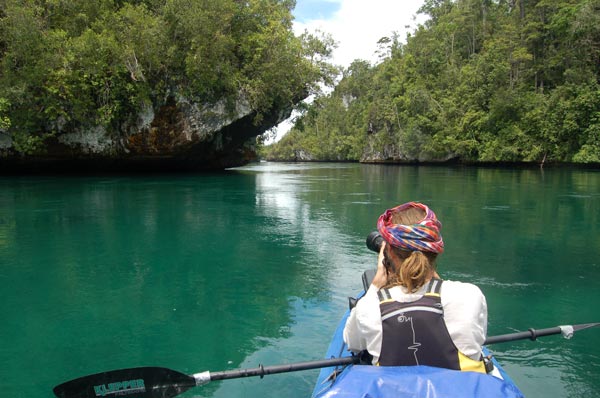 En smal passage mellem 2 øer. Vi drev bare med den stærke strøm og nød det.
The Passage. We just drifted with the current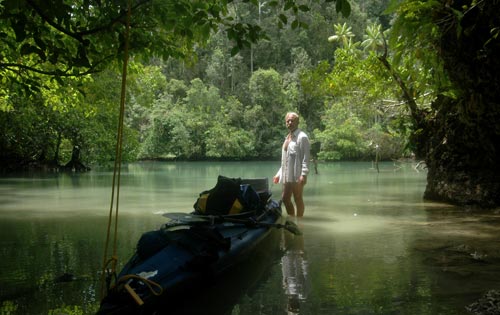 Nogle kanaler endte blindt
Some channals just were dead ends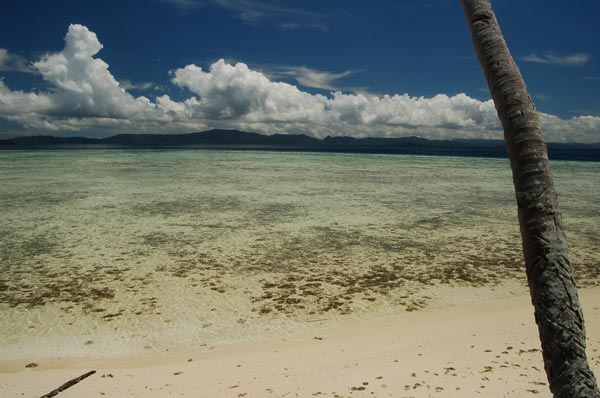 Det lavvandede koralrev går langt ud.
At low tide the reef goes along way out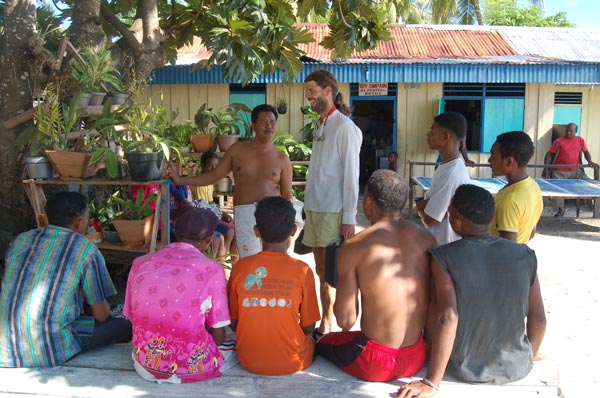 Søren underholder i en landsby..
Søren entertaining...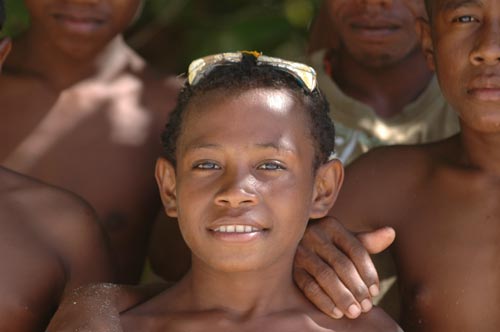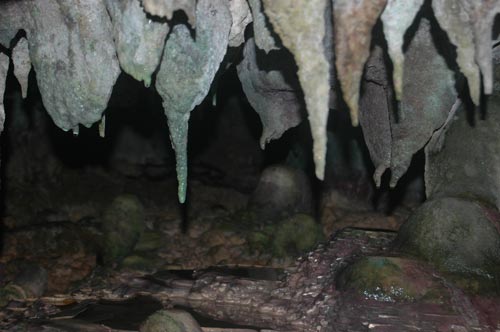 Kalkstensøerne er fulde af huler
Limestone islands full of caves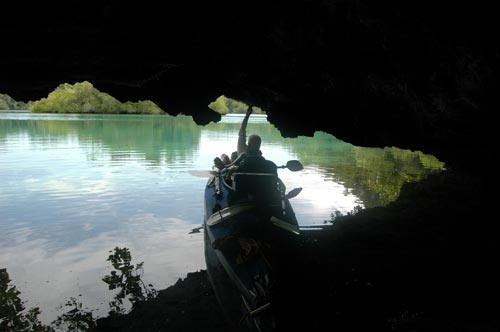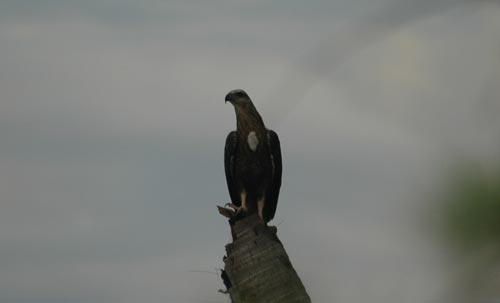 En ung hvidbrystet havørn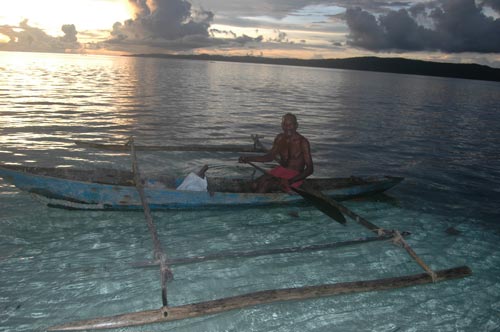 En ældre mand i sin udrigger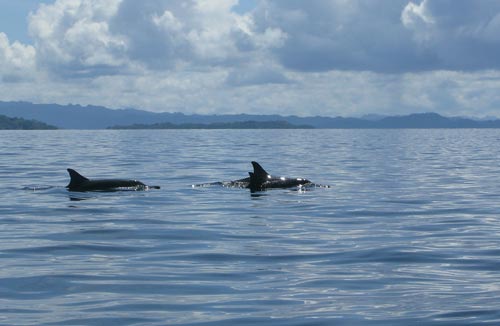 Nogle delfiner kom forbi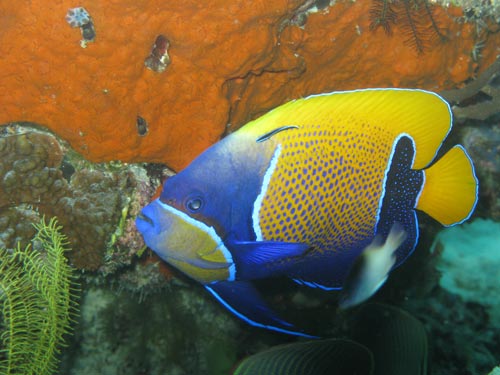 En af de mange kejserfisk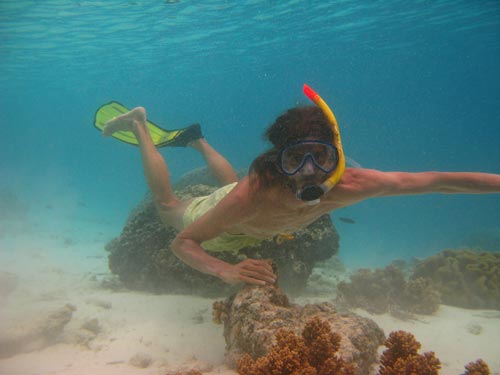 Søren har stadig en finne tilbage
Søren still have one fin left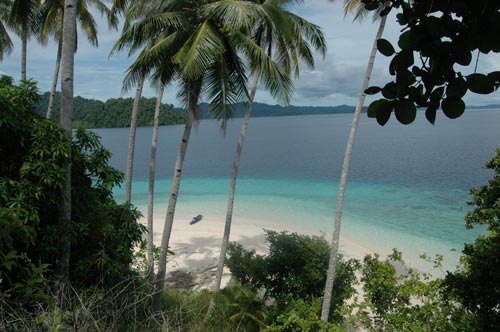 Vi holdt pause på denne lille ø et par timer
We had a break a couple of hours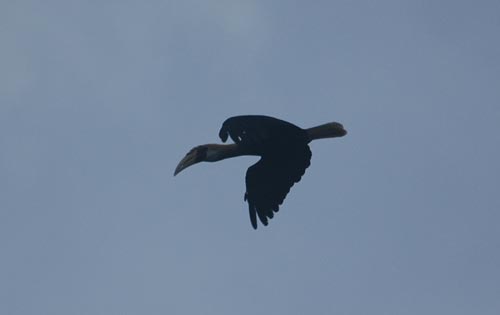 En næsehornsfugl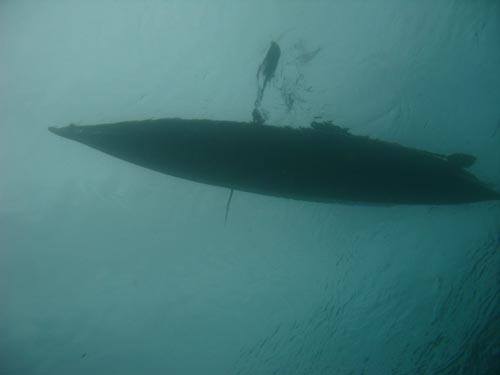 Kajakken set nedefra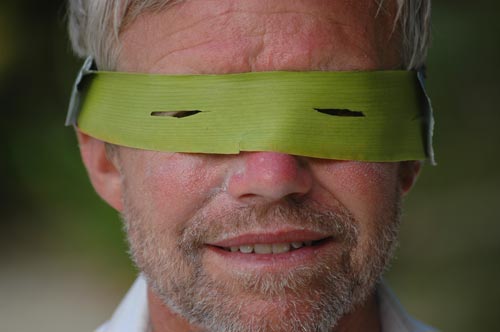 Hjemmelavede solbriller
Home made sunglasses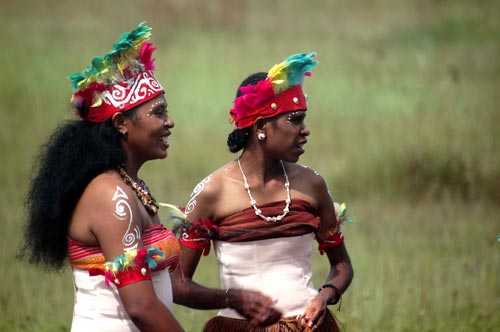 Et par indfødte kvinder i festudstyr
Native women in party dresses