Mergui Archipelago
Kajak Ekspedition 2010
Deltagere Udstyr Rejseplan Hvor Forside Tidl. ekspeditioner Links
Billeder
Billederne er ved at blive redigeret i dette øjeblik
Her er nogle og flere vil komme snart Video Clip
Photos are being edited at the moment. Here are some, and more will come soon.
I den thailandske grænseby Ranong gøres klar til afgang mod Burma
Preparing to leave Ranong (Thailand) for Burma
I Longtailbåd mod den burmesiske grænseby Kaw Taung
The crossing from Thailand to Kaw Taung, Burma
Stranden på McCleod Island hvorfra vi skal padle
The beach on McCleod Island and Mergui Andaman Resort from where we are to start padling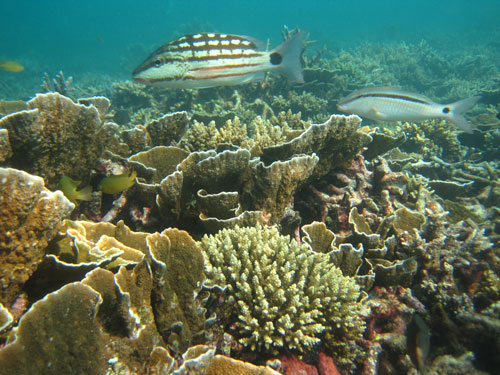 Masser af liv i revet ved McCleod Island
Lots of life in the reef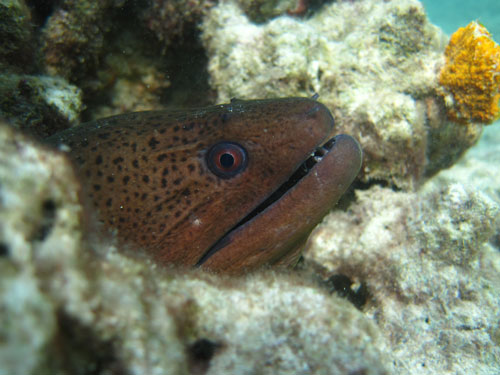 En muræne kigger frem
A moray eel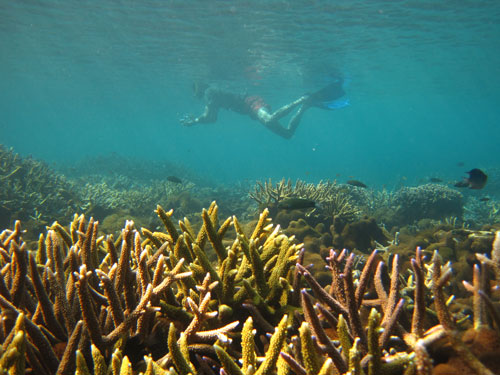 Delvist sundt koralrev ved McCleod Island
Partly healthy reef at McCleod Island
Børsteormes munddele kan være meget dekorative
Christmas tree worms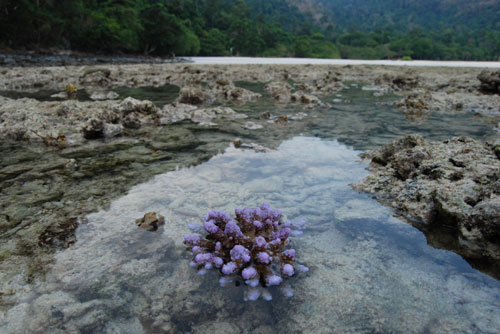 En koral tørlægges ved lavvande
A coral at low tide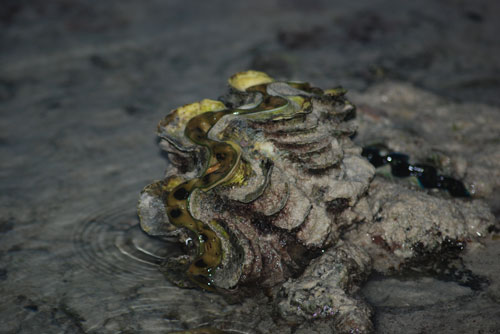 En kæmpemusling ved lavvande
A giant clam at low tide , McCleod Island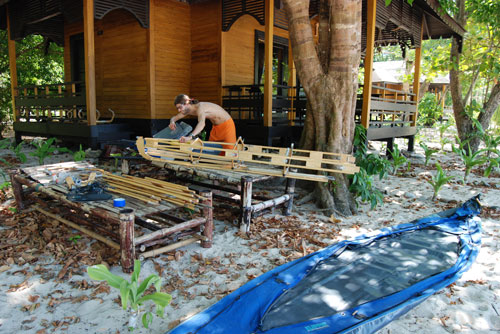 Kajakken samles på McCleod Island
Assembling the Klepper kayak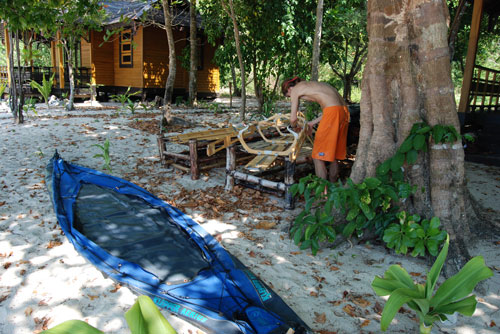 Mangrove ved Lambi Island
Vi sejler hen over koralrev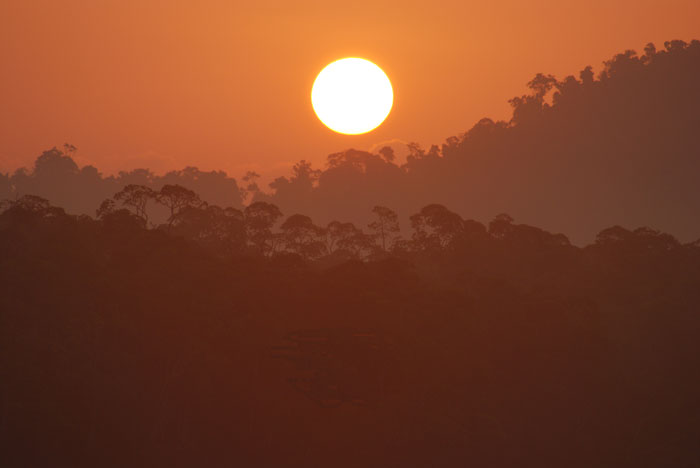 Solopgang over Lambi Island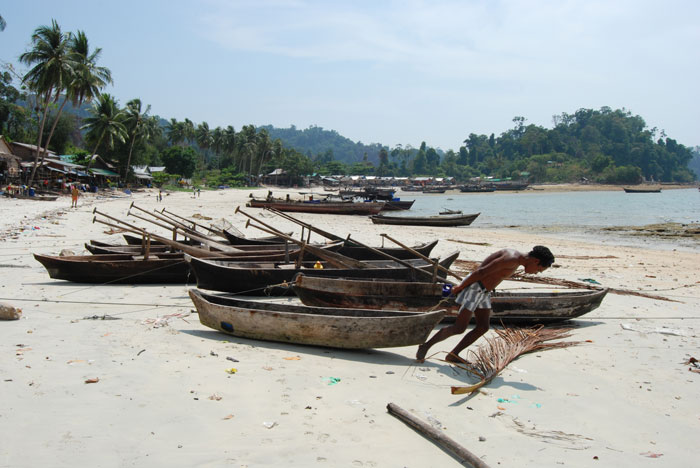 Moken kanoer som roes stående
Moken boats are rowed standing up facing forward
Moken laver kano af en enkelt træstamme
Moken boat builder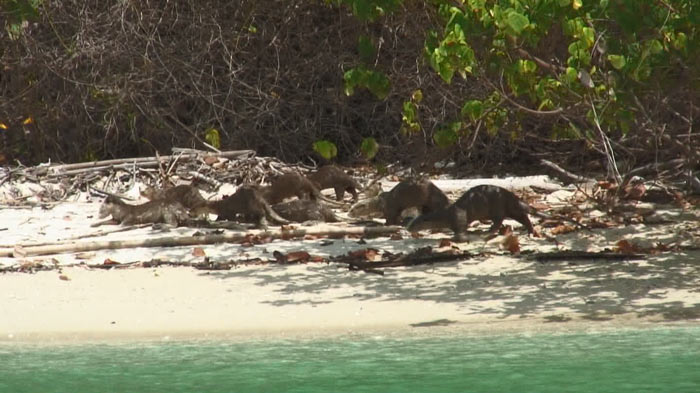 Det uhyre sjældne syn af en odderfamilie på stranden
The very rare sight of a family of otters
Oddere er nysgerrige, hvilket kan være farligt for dem.
Otters are currious, which is very dangerous if local hunters are around.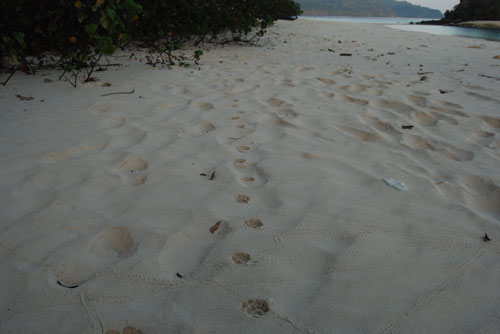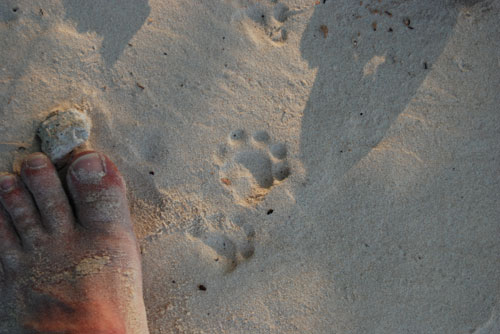 På strandene var mange dyrespor. Junglekat? Civitkat?
Many animal foot prints on the beaches. Jungle cat? or civit?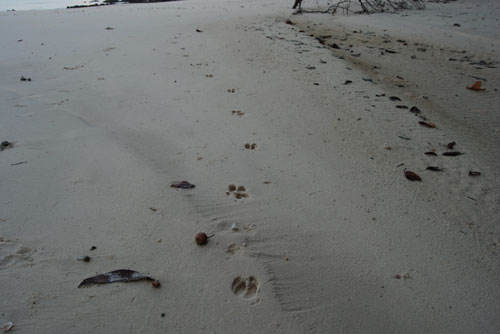 Vildsvin
Wild Pig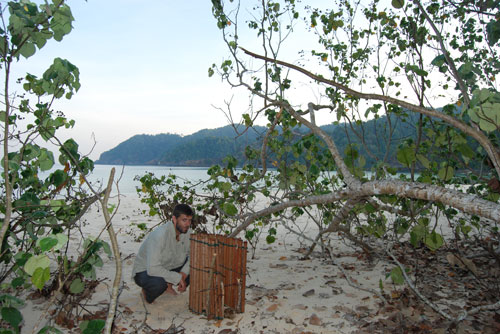 Her er opsat en fælde som skal fange junglekat eller civit. Jagt er noget næsten alle mænd er meget optaget af.
Here is a trap for jungle cat or civit. Hunting is something all the men are very much into.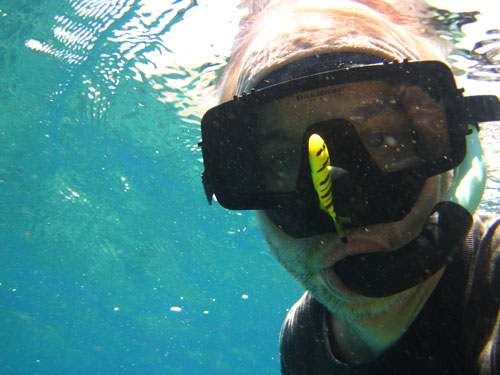 Min trofaste ven på hele dykket. En lille golden trevally
A small holden trevally left his cobia and became my little yellow friend
En kæmpestor cobia. Disse store hajlignende fisk elsker at rejse med store hajer.
A huge cobia. Cobias like to travel with big sharks and rays.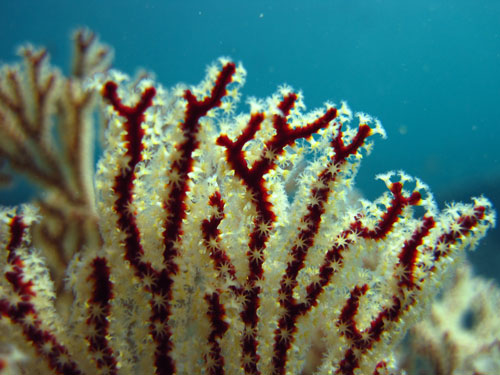 Viftekorallens polypper har 8 arme.
Fan coral polyps have 8 tentacles.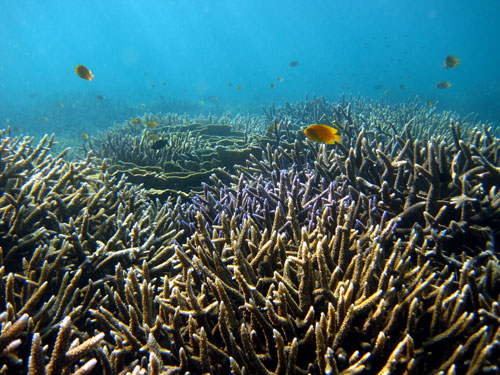 Et sundt koralrev.
A healthy coral reef.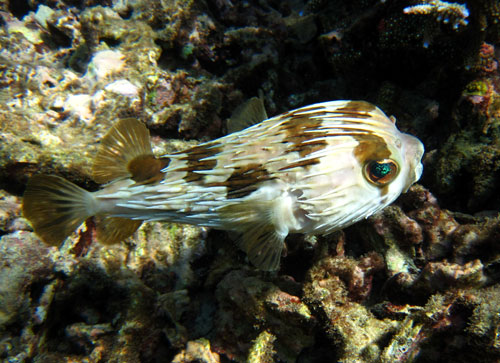 En lille pindsvinefisk.
Spiny pufferfish.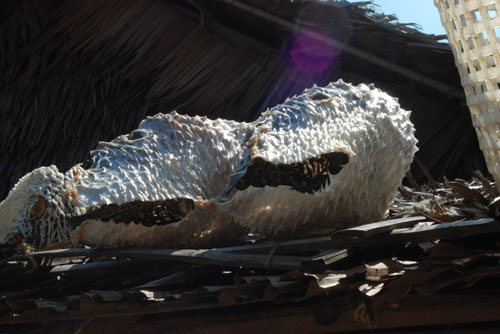 De fleste pindsvinefisk ender sådan her. Tørret med skinnet vendt på vrangen.
Most spiny puffers ends up dried inside and turned inside out.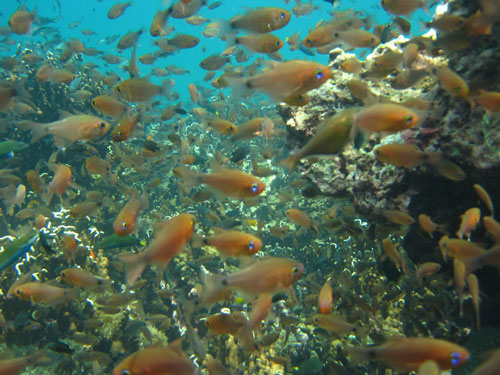 Kardinalfisk i massevis.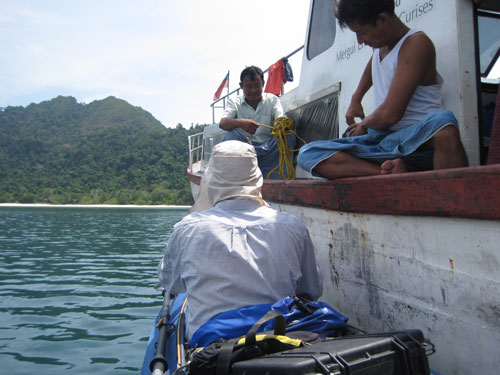 Vores obligatoriske følgebåd.
Our support boat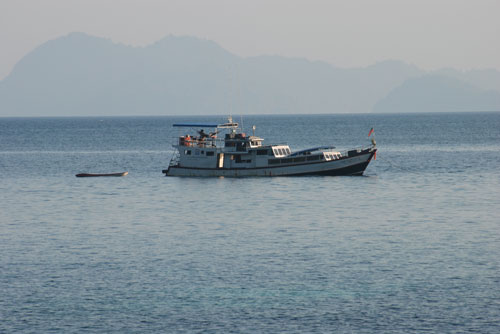 '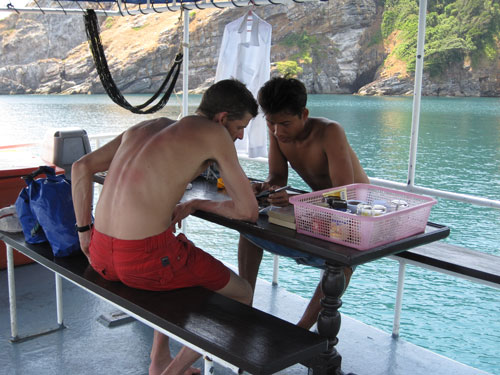 Den videre færd planlægges.
Next waypoints are planned.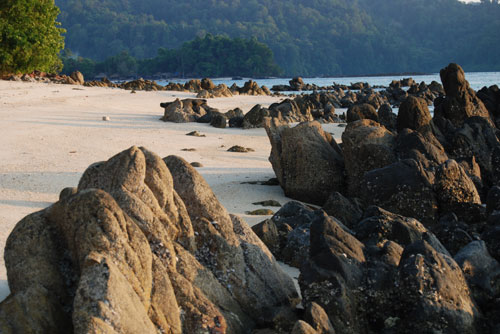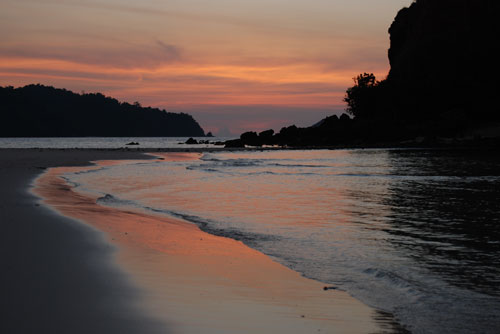 Solnedgang ved Kyun Pila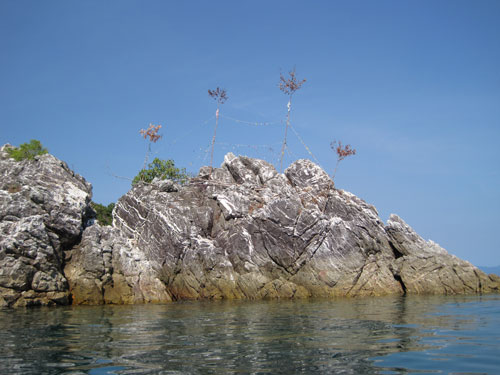 Moken helligdom
Moken shrine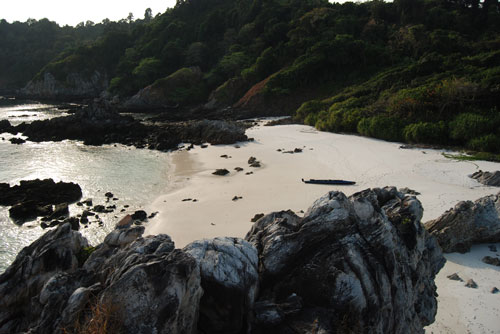 Kajak på strand.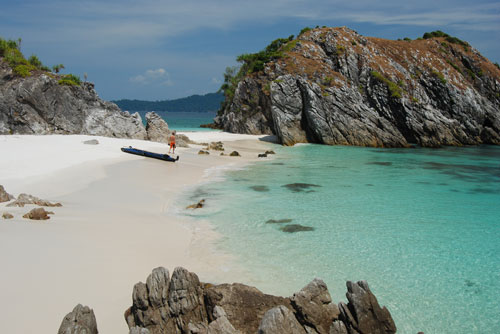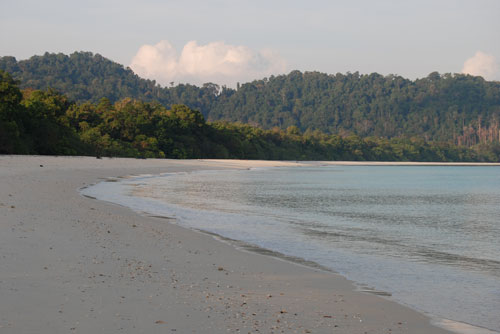 Strand og regnskov.
Beach and rainforrest.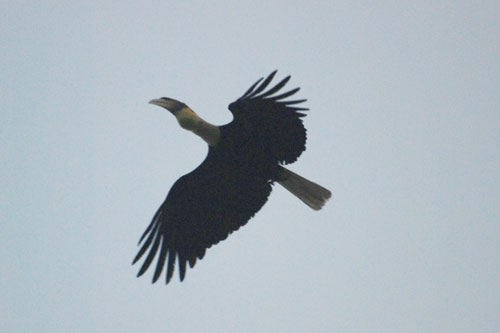 Vi slog lejr på en lille ø hvor der boede ca. 100 store næsehornsfugle.
We camped on a small island where 100 big wreathed hornbills rested every night.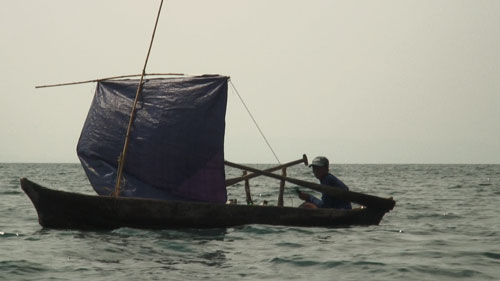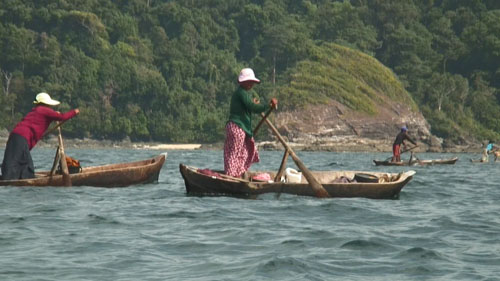 Moken-folket på fisketur uden brug af motor
The Moken on a fishing trip with no use of longtail engine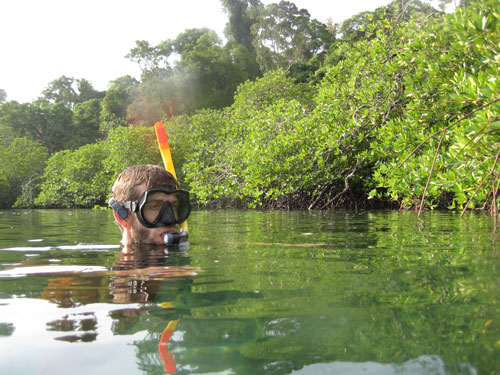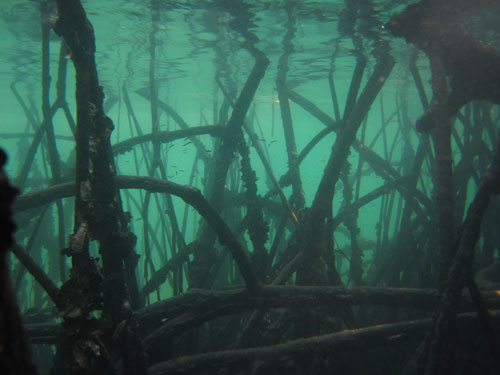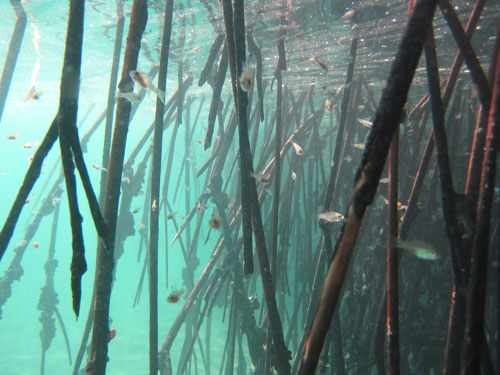 Spændende at dykke mellem mangrovernes rødder. Et sted masser af fisk vokser op.
Exiting to dive between the roots of the mangroves. A nursery for thousands of fish.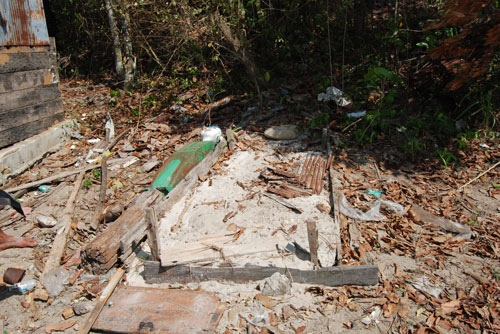 Gammelt Moken gravsted som ikke bruges mere
Old Moken burriel place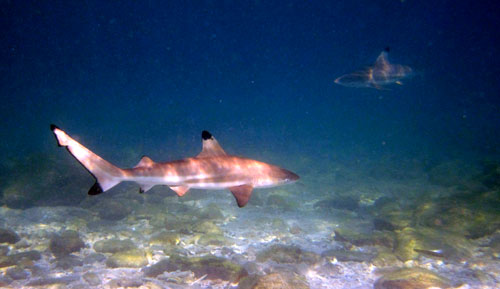 Kun et enkelt sted så vi hajer. En fisk som før var overalt.
Only one place we saw some sharks. Sharks used to be everywhere before.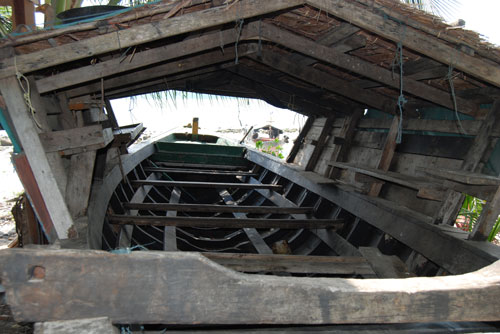 Mokenerne kan ikke mere bygge den traditionelle bådtype kabangen. De unge har ikke lært det.
The Moken has lost the skills to build the traditional house boat the kabang.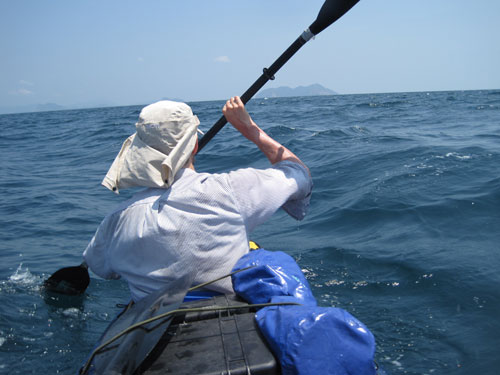 De lange stræk mellem øerne kunne være hårde.
Some of the long distances between islands could be hard.
Knivfisk står lodret i vandet mellem koralgrenene
The knifefish are vertical in the water hiding between coral branches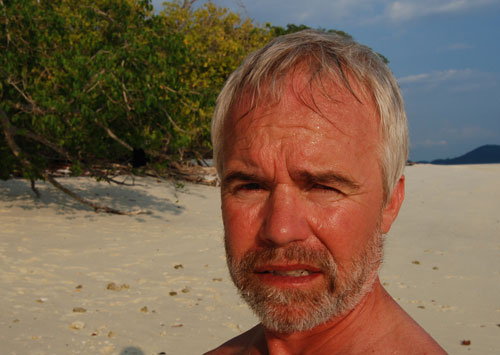 Varmen kunne være svær at klare
The intence heat could sometimes be hard to handle.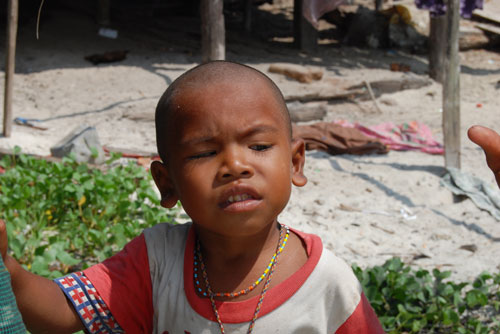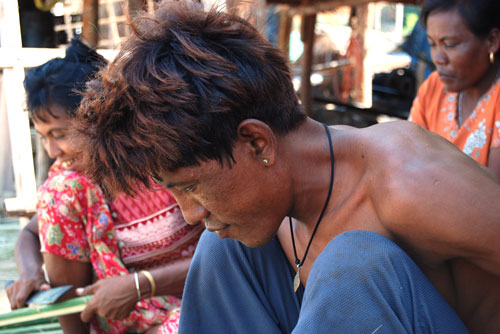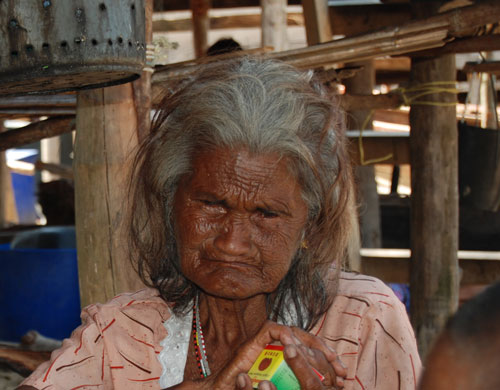 Moken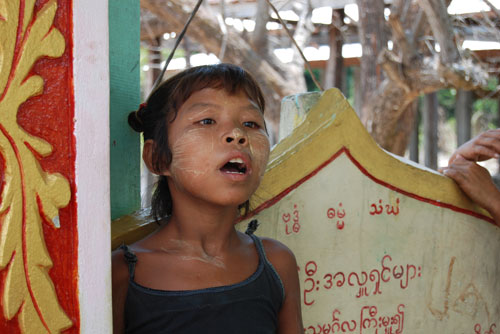 Bumeserpige med pudder i ansigtet
Burmese girl with powder in her face.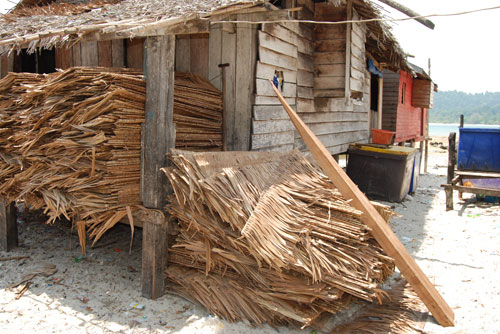 Ikke alle tage bliver læaver af bølgeblik. Her er der gjort klar til nyt tag af palmeblade
Still some roofs are made of leafs from palms.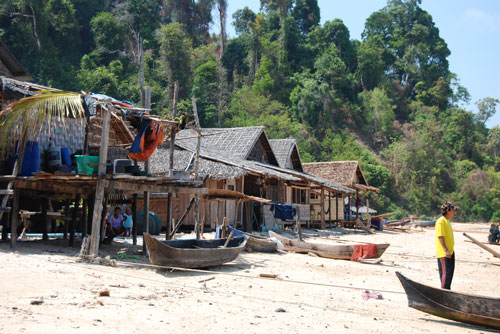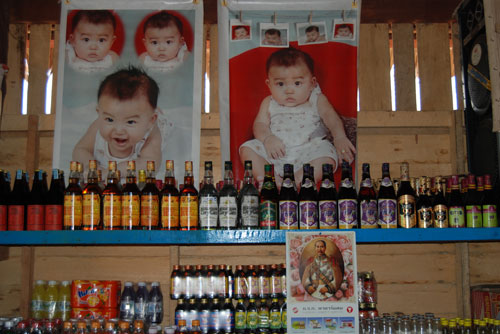 En landsbyforretning. Masser af alkohol som desværre er et stort problem for Mokenmændene. De drikker sig ihjel.
A village shop. Lots of alcohol, which is a big problem for the Moken.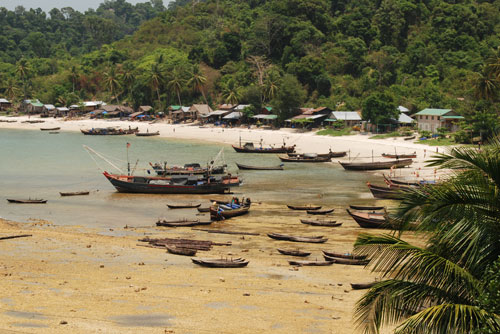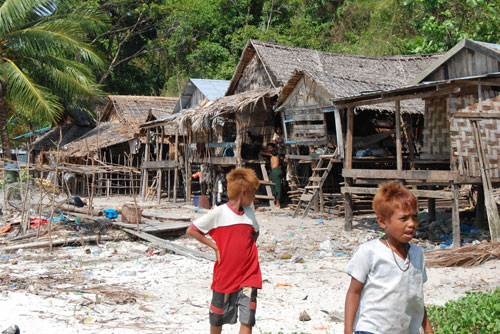 Mokenlandsby
Moken village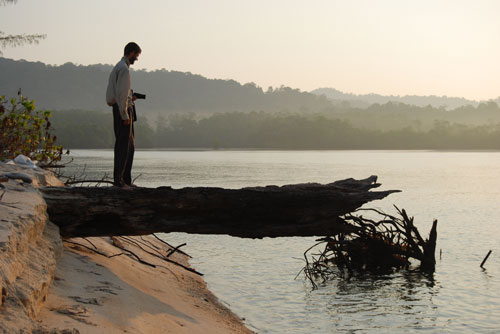 Korallerne bliver ødelagt af dynamitfiskeri, cyanidfiskeri og fiskenet.
Corals are being destoyed by dynamite, cyanide and nets.
Havet bliver hurtigt overfisket og vi så ikke mange store fisk. Og kun 2 havskildpadder.
The sea is quickly being overfished and we saw only few big fish. And only 2 turtles.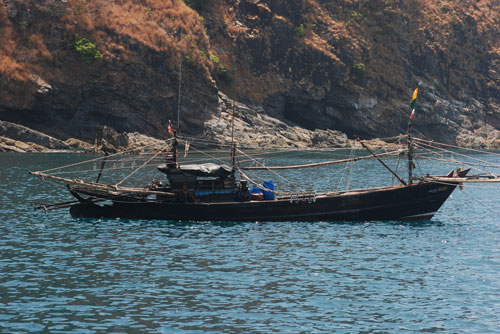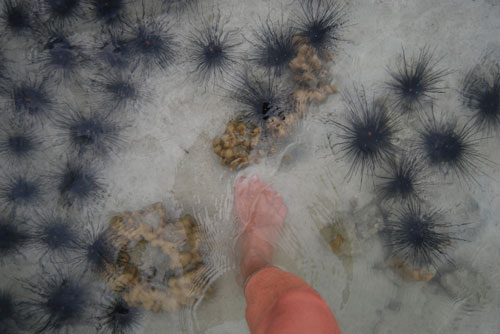 Så mange søpindsvin er et dårligt tegn i et koralrev.
This many sea urchins in a coral reef is signaling that the ecosystem is off balance
All oprørerne som gemte sig på dette skip blev dræbt af regeringstropper i 90'erne. Nu er vraget fuld af spøgelser.
All the rebels on this ship hiding from government troups were killed. Now the wreck is full of ghosts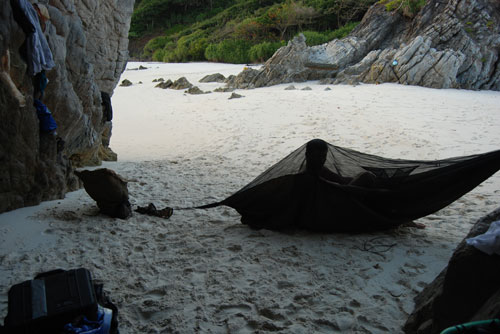 Nogle gange kan selv ikke klippen holde til Sørens vægt.
Sometimes even the rock is not strong enough for holding the hammock